Fanny Pack Mens Womens Waist Hip Belt Bag Purse Pouch Pocket Travel Sport Bum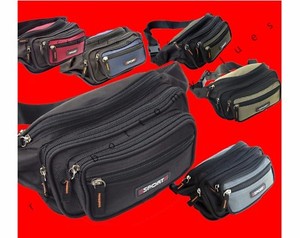 ---
Fanny Pack Mens Womens Waist Hip Belt Bag Purse Pouch Pocket Travel Sport Bum

Multi-Pocket (5 Pockets!)Adjustable Waist BeltChoose From 6 Beautiful and Vibrant ColorsPlease look at the main photos that show all black; each color bag is the same style and design as the black bag only different colorThis Bag is Made of Durable Strong PolyesterDimensions are as follows: Main Body of the Bag is 8.5 Inches Wide  The 8.5 inch body has 1.5 Inches Of Material On Each Side That Contributes tothe Girth of the Bag. The 1.5 inches of material allows for small inner expansion when maximally filled.  The 8.5 inch body and 1.5 inches of material on each side adds to the total waist size of 48.5 inchesThe long belt goes up to 32 inchesThe short belt is 5 inchesThis gives a total girth of 48.5 inchesThe Bag is 5.5-6 inches high6.5 inches deep (approx when filled normally)3-3.5 inches deep "at rest" (not filled) (approx)This Bag has 5 Roomy PocketsDurable ConstructionBeautiful Design and Stitching The Back Pocket is 8.5 Inches Across The pocket in the front with the word "Sport" is 6 inches wide and 3 inches high USPS First Class FAST Shipping  PAYMENT INFORMATION

You Will Be Presented With Payment Options At Check-out.

Paypal Is The Most Popular And Most Preferred.

SHIPPING INFORMATION

We Have A Simple And Effective Shipping Policy

Ship As Soon As Possible, Often The Same Day

Ship On Saturdays

Use The Safest and Fastest Shipping Carrier: The United States Postal Service

We Have Two Shipping Methods: First Class and Priority, Nothing Less

RETURNS POLICY

Our Return Policy Is 30 days.

We Want You To Be Happy With Your Purchase And Feel As Confident As You Would If You Were To Buy From A High-end and Famous Retailer In The Heart Of New York City.

If You Are Not Happy With Your Purchase Then Please Contact Us So That We Can Make You Happy. 

Take A Moment To Review Our Feedback Around Customer Service.

We Respond Swiftly and Respectfully To Any Concerns You Have From Doing Business With Us At Rockbottomvalues.